How to Sell Used Books for
Extra Income

By Joe Waynick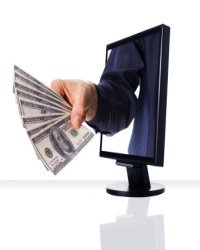 Let's discuss how to sell used books with your own online bookselling business and make money with your computer from home.
While starting your own business isn't too terribly hard, it's not too terribly easy either. The biggest challenge is finding reliable sources of supply for inventory to sell.
Once you've located a good source of used books you're ready to start stocking your home business bookstore.
With books in hand, making money online is relatively easy. All you have to do is get your used bookstore inventory listed on one of the dozen or so bookselling marketplaces.
Sometimes they're called online marketplaces. Either way, a selling venue is your most valuable online bookselling resource for finding customers who will be buying your products.
There are basically two ways Amazon book sellers approach online bookselling.
First, if start-up capital is a problem, you want to launch your business with as little investment as possible by listing your books for sale on one of the free marketplaces.
A free online selling service makes online selling simplified for beginners.
However, if you have a bit of money to invest, you may want to start with one of the top online selling sites like Amazon.com to maximize sales and start making money online immediately.
If you've used one or more of the book scouting techniques mentioned previously, then you've acquired lots of books at a very low cost.
If you haven't read up on how to find the best products to sell online, then you should click the link above and check out the products article.
Start to Sell Used Books on a Shoestring
Once you learn how to sell used books you'll discover that the easiest and least expensive way to make money online selling stuff is to choose one of the free marketplaces like Half.com (which is owned by eBay) to begin your high income home business.
A little-known secret about Half.com is that one of the benefits of online selling is you don't pay any fees until you actually make a sale. It's a great deal!
You'll need to go to the Half.com website and register as a seller. Then you log onto your used book seller account and follow the prompts to sell your books online.
It's a quick and easy way to bootstrap your used book selling business with no upfront costs beyond what you paid for your inventory.
Half.com is not the largest marketplace available; therefore, they offer an attractive deal to encourage home-based and small business owners to sign-up.
Although you won't maximize sales, you'll certainly maximize your profit per sale because the start-up costs are so low.
Jumpstart Sales With The Big Guns
If you know where to sell used books even a modest amount of start-up capital can get you off to a flying start. You'll want to begin with the powerhouse marketplace: Amazon.com.
Technically, Amazon.com is both a free marketplace and a paid marketplace because there are two ways Internet booksellers can register.
The free registration comes with extra fees you don't pay at truly free marketplaces like Half.com when you sell used books there.
Here's how it works. With Amazon's free registration, you escape the monthly fee, but you pay an additional $0.99 per sale.
The free account has the advantage of minimizing your up-front costs.
But it has the disadvantage of reducing your overall profit per sale.
You can avoid the additional per sale fee by signing up for Amazon's ProMerchant account. ProMerchant's pay a $40 monthly charge.
That may sound like a lot, but once you're earning thousands of dollars per month as you sell used books online, the monthly fee is insignificant. In addition, your Amazon pricing strategy will also ensure adequate profit margins.
Ideally, if your used book sales are fewer than 40 units per month, you want to use Amazon's free account. When you're selling more than 40 units per month, you can upgrade to a ProMerchant account.
You won't maximize profits, but you'll certainly make more sales because of Amazon's sheer size in the marketplace. If you combine the worlds largest online bookseller with a strategy that lets you profit from prices that go UP and not DOWN, you'll have a winning ticket that makes money for you every single day!
* * * * *
Top of Page: Sell Used Books
Learn how to sell used books with your own Internet bookselling business and make money with your computer from home.
Home Page: Making Money Online Selling Used Books
A FREE step-by-step guide for making money online selling used books part-time or full-time from the ground up.
Would you like to comment on this article?
Has this article been helpful to you and/or your business? Would you like to add a point or two I may have missed?

Use the form below to create your own webpage on this site and share your thoughts about the article. You can even write an entire article of your own! In fact, comments consisting of 300 words or more receive priority consideration.

Blatant commercial messages will not be posted. In addition, SPAM or inappropriate comments or pictures (in my sole opinion) will be ignored.

Nevertheless, a SHORT promo for your business and a link back to your website at the end of your comments are permitted.