Online Bookselling for
Fun & Profit
By Joe Waynick
May 22, 2011
You can start your own online bookselling business part-time or full-time and earn a very nice living while having the time of your life.
Thousands of people just like you earn $10,000 to $50,000 per year selling used books online. Those people aren't smarter, richer, or know the right people. They simply made the decision to take charge of their financial lives and build a better future.
Getting started with online bookselling is incredibly easy. All you have to do is find a few books that are in demand on the Internet, upload their ISBNs to a marketplace and wait for orders to roll in.
I can't make it any more complicated than that. It's oddly strange to me whenever I'm asked, "Can I still make money selling used books?"
It's strange because every day I buy books for $1 - $3 and sell them for $5 - $100. Every single day! You're intelligent aren't you? Why can I do this and you can't? Believe me; I'm no smarter than the next guy or gal. But I've made as much as $30,000 in a single month buying and selling books on the Internet. There's no reason why you can't too.
Here's How Online Bookselling Is Done
You find a source of supply. For example, library book sales are an excellent place to buy extremely valuable books at a very low price – usually for just a dollar or two.
Library sales can be found several different ways. My book scouting resources page lists more than a dozen websites that help you find inventory suitable for online bookselling.
The trick is to learn to spot books that sell for at least three or four times your cost. If you pay $2 for a book, you should be able to sell it for at least $6 - $8 to allow yourself an adequate profit.
Put Your Books Online
Once you've found books that you know will make you a healthy profit, you have to get them online so people who want those books can find then and buy them.
Where do you sell books online? Amazon.com is the biggest online marketplace in the world for selling books. Amazon has a basic account that's free to list books for sale.
You don't pay a commission or fee until after the book sells, making being in business for yourself risk free. Half.com is another good place because it's free to list your books too.
Fill Those Orders!
Online bookselling doesn't do you much good if you don't sell books now does it? Of course not! After you put your books online it won't be long before they begin to sell.
Sometimes books will sell in hours or just a few days. Other times, it'll take months or years. It all depends upon the book.
Basically, to fill an order you need bubble mailers, packing tape, and a felt tip pen. (You also need a computer and printer. After all, if you don't have those you can't operate an online bookselling business.)
You'll be notified by the marketplace by eMail when you've made a sale. You then logon to the marketplace and retrieve the order information so you can service your customer.
Insert the book that was sold into the bubble mailer, seal it with packing tape, and write the customer's name and address on the outside of the mailer. Then ship the book to your customer.
If you really want to get fancy, you can learn how to profit from prices that go UP and not DOWN to really make your income soar!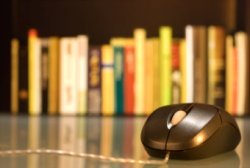 Nothing Could Be Easier
Those are the basics. But if you want the nitty gritty details of how to start and operate an online bookselling business, then you need more information.
You can learn everything you need to know about this business in my book, Internet Bookselling Made Easy! It's the most comprehensive, up-to-date, encyclopedia of information about selling used books online you can buy.
Click the link above and you can learn all about this fabulous resource.
* * * * *
Top of Page: Online Bookselling
Go back and read about starting an online book selling business again.
Previous Page: Bookselling Blog
Get the latest news and information about Internet bookselling available on the web.
Home Page: Making Money Online Selling Used Books
A FREE step-by-step guide for making money online selling used books part-time or full-time from the ground up.
Would you like to comment on this article?
Has this article been helpful to you and/or your business? Would you like to add a point or two I may have missed?

Use the form below to create your own webpage on this site and share your thoughts about the article. You can even write an entire article of your own! In fact, comments consisting of 300 words or more receive priority consideration.

Blatant commercial messages will not be posted. In addition, SPAM or inappropriate comments or pictures (in my sole opinion) will be ignored.

Nevertheless, a SHORT promo for your business and a link back to your website at the end of your comments are permitted.