Scaling Your Business To Globally Market
Your Used Books For Sale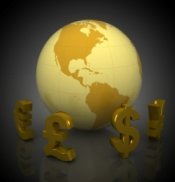 If you're a volume seller with many used books for sale this guide will help you find additional distribution channels beyond online marketplace sales.
By diversifying the number and quality of outlets for your inventory you smooth out your revenue stream at a higher level and increase the predictability of your growth projections.
Diversification doesn't have to be difficult. In fact, it can be down right easy with an advanced intelligent software system that allows you to buy and sell books online with ease.
You can make cash selling books today on a small scale. But to scale a business up takes much more effort and considerable bookseller resources.
Put Your Eggs In Many Baskets
When you buy used books by the ton and you must triage thousands of books per day, you have to do it fast. In addition, the data on which you base your decisioning has to be accurate to effectively move your used books for sale.
Finally, you need to market those books to as many buyers as possible to maximize the yield you receive by selling used books online from each load you process.
Essentially, you need a software system that will identify books that are the most likely candidate for:
Merchant Fulfilled Listings
eBay Auctions
Retail Store
Books For Trading For Store Credit
Backroom Inventory
International Sales
Consignment
Pulp
A Little Bit Of Math
A 53' tractor trailer will hold 48 - 52 gaylords of books. That's 20-25 tons of books. Your average book weighs 1.2 lbs. 20 tons means you have approximately 31,000 used books for sale in your warehouse.
You must try to market every single book in your shipment to one of the above distribution channels.
Ideally, you'll find a marketable outlet for 100% of the load (excluding pulp, which is the channel of last resort).
Margins are razor thin when you sell used books so you must be highly efficient to be successful in the used books business.
Realistically, about 10% will be waste, meaning books that are in such bad shape they're automatically pulped. That still leaves you with about 28,000 books to process one book at a time. And that's a very labor intensive activity to undertake.
To become a major player you've got to have deep pockets.
If you're processing a shipment each month you have roughly 22 work days to decide what to do with your used books for sale until the next shipment arrives.
Look Before You Leap
It's a daunting task to sell used books online at that level unless your infrastructure is designed to handle huge volume. Without the proper tools, equipment, facility, and software systems, your booksales are bound to fail. Most Amazon booksellers are unable to muster the necessary resources to pull it off.
Nevertheless, there are hundreds of companies doing just that and more. Some take in as many as one tractor trailer per week and rake in gross sales in the millions of dollars per year.
They also reap enormous profits online, especially when they sell some books overseas.
The cost of scaling a home-based online bookselling operation to the necessary size to handle bulk shipments requires a considerable financial and personal commitment.
Massive overhead can be a real headache. Are you ready for that kind of responsibility and pressure to sell your books?
The Next Step
In the next series of articles we're going to look into what's required to take your home-based Internet bookselling business from just selling on Amazon to how to sell used books globally.
So if you're interested in taking the next step as a small used book seller and becoming a major bookseller, then you'll want to read the following articles.
* * * * *
Return To Top: Used Books For Sale

Return to Home Page: Making Money Online Selling Used Books

Would you like to comment on this article?
Has this article been helpful to you and/or your business? Would you like to add a point or two I may have missed?

Use the form below to create your own webpage on this site and share your thoughts about the article. You can even write an entire article of your own! In fact, comments consisting of 300 words or more receive priority consideration.

Blatant commercial messages will not be posted. In addition, SPAM or inappropriate comments or pictures (in my sole opinion) will be ignored.

Nevertheless, a SHORT promo for your business and a link back to your website at the end of your comments are permitted.