Joe Waynick's Media Page
Greetings, Reviewers, Journalists, and other Media Folks. To make your job easier, I have included downloadable artwork of the book cover and author photo's. Right click on these images and choose "Save Link As" to download to your computer.
I've also included several different book descriptions of varying lengths for you to use for editorial copy if you wish. Just copy and paste what you need into your favorite word processor and modify as needed.
* * * * *
Internet Bookselling Made Easy!
How to Earn a Living Selling Used Books Online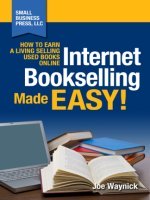 Brief Annotation
Low start-up costs and unlimited earning potential make selling books online one of the best opportunities around. This book is a complete, no-nonsense guide to every aspect of the business! In clear, straightforward language, readers are walked through every step in starting and running a flourishing Internet bookselling operation.







Joe Waynick web resolution images: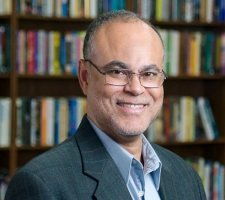 * * * * *
Third Person Author Bio
Joe Waynick started selling books on the Internet in 2006 part-time out of a spare room in his home. In less than a year his business out large enough to move into a commercial warehouse where he operates his business today.
Since those humble beginnings he has sold tens of thousands of books on the Internet and remains a full-time online bookseller as well as a much sought-after book sales coach and consultant.
Not only has his Internet business grown into more than 100,000 titles offered on Amazon.com, he's also diversified into establishing a retail bookstore in Phoenix, AZ as well as a wholesale supplier to other local bookstores.
Now he wants to help others achieve their personal and financial dreams by teaching them his time tested techniques for operating a home-base Internet bookselling business that has the potential to earn a full-time income for those willing to "think outside of the box."


* * * * *
Personal Profile
Joe Waynick is the author of "Internet Bookselling Made Easy! How to Earn a Living Selling Used Books Online," which teaches entrepreneurs how to start and operate a profitable online bookselling business.
He also hosts the Internet Booksellers Forum which is a bookseller discussion board set-up exclusively for his readers and students. He interacts with them on a daily basis to ensure they have the best possible chance at success.
Joe was born in Newark, NJ. He is a U.S. Marine Corps veteran and a Business Administration graduate of the University of Phoenix. Joe currently lives in Goodyear, Arizona.


* * * * *
Main Book Description
Internet Bookselling Made Easy! is easily among the best "start and run your own business" guides that has ever been written. Just flip through the pages and you'll find out just how good Joe Waynick is at delivering a detailed how-to manual for the American dream of successful self-employment as an Internet Bookseller.
This book could be used as a manual for starting a wide variety of one-person, micro or small businesses. It has all the specifics needed for selling books online, including:
How to find your inventory
How much to pay for it
How to figure your pricing
Where to sell
How to do order fulfillment
How to add other media to your inventory
At the same time, it covers the management procedures and operational considerations any start-up or growth oriented entrepreneur should be looking at, including:
Bookkeeping and accounting
Raising capital and calculating prices
Marketing, promotions and networking
Projecting sales
Organizing information and work flow
If you run into obstacles you can always visit the Internet Bookselling website to chat with the author and the rest of the online community for ideas and solutions. Professional, experienced help is only a mouse click away for Joe's readers.
If you are…
Thinking about starting your own one-person, micro or small business
Have a business already but want to grow it
Love books and would like to make a living related to that love
…don't let anything stop you from getting Internet Bookselling Made Easy! Whether you are in the bookselling business or not, this is a must have volume for any business library.
It is so heavy with detailed "how-to" advice, it is equal to the documentation and management systems provided with a top brand franchise deal--minus the brand but also minus the franchise fee.
If you want to experience the ultimate home-based business that doesn't require a large up-front investment, that also has the potential to earn a lucrative income, then you need to read this book!