There are a lot of options
by J. Scott
(Florida)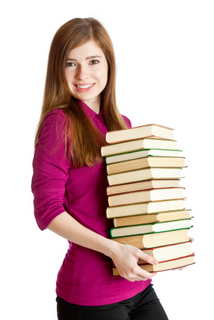 And one shouldn't be the campus bookstore. Fight back. Avoid the campus bookstore. Go online if you want cheaper textbooks.
As long as some people are still paying retail prices the publishers are not going to be compelled to end their monopoly on student's wallets.
Go online and search for used books, international editions, older editions, rentals, and even e-books to combat the high prices. The only problem with this solution is that there are so many places online promising cheaper books.
That's why I use
BigWords.com
. They are a textbook price comparison search engine that searches all the online retailers and rental site to find you the best prices, no matter which format you are seeking.
* * * * *
Return To Original Article: Buy & Sell Cheap College Textbooks Online
Return To: The Bookselling Blog
Return to Home Page: Making Money Online Selling Used Books
Join in and write your own page! It's easy to do. How? Simply click here to return to Comment on this article!.
Would you like to comment on this article?
Has this article been helpful to you and/or your business? Would you like to add a point or two I may have missed?

Use the form below to create your own webpage on this site and share your thoughts about the article. You can even write an entire article of your own! In fact, comments consisting of 300 words or more receive priority consideration.

Blatant commercial messages will not be posted. In addition, SPAM or inappropriate comments or pictures (in my sole opinion) will be ignored.

Nevertheless, a SHORT promo for your business and a link back to your website at the end of your comments are permitted.
What Other Visitors Have Said . . .
Click below to see what other visitors have said about this article.